Counter Class
Go to the
Counter Class
page to get materials to be an antidote to the American history textbooks used in DISD. The Counter Class page covers a wide range of textbooks and on this page you should be able to find the textbook used in your school. If you don't find it, please email me at
edwardsebesta@gmail.com
.
The link to the Counter Class Page is
http://www.templeofdemocracy.com/counter-class.html
. It has sub pages.
Relevant Books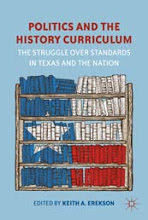 Edward H. Sebesta is the author of the chapter on the new Texas Teaching Standards treatment of the Civil War and Reconstruction. The book is somewhat overpriced.
http://www.keitherekson.com/books/politics-and-the-history-curriculum/
One thing needs to be understood. Though the new Texas Teaching Standards are reallly appalling, the previous standards were poor and American history textbooks in general are essentially Confederate monuments. Ed Sebesta has been purchasing American history books, including those for the private Christian schools, and collecting them and reviewing them.
I
am listing this book not to recommend buying it, but as part of my qualifications to review American history textbooks.
---
The following books are books that I do recommend that the reader consider purchasing.
1. "History on Trial: Culture Wars and the Teaching of the Past," Gary B. Nash, Charlotte Crabtree, and Ross E. Dunn. This is an excellent book on the politics and issues faced in the teaching of an accurate history. It is in print and available in paperback.

2. "Lies My Teacher Told Me: Everything Your American History Textbook Got Wrong," James W. Loewen. This is an excellent book about the rubbish American history textbooks teach and why publishers produce such rubbish. It is available in both paperback and electronic. It has sold more than a million copies.

3. "Teaching What Really Happened: How to Avoid the Tyranny of Textbooks and Get Students Excited About Doing History," Multicultural Education Series, James W. Loewen. This is an excellent book and it also talks about how racism is taught in our American history textbooks. This is available in paperback.

This book is also a great book about racism in public education. Loewen needs to explain racism in the public schools so he can explain why textbooks are so bad.

A quote from page 10 in commenting on American history classes. Loewen is commenting because of the poor textbooks and its sanitized history, American history classes are usually considered very boring. Loewen further explains, "Students from out-groups hate history with a special passion and do especially poorly in it." Yes, who would like a class which asks you to intellectually eat dog turds. This is how students are alienated from education.

Another quote from the book:

This is from a section in which a student teacher is teaching a historically accurate account about Thanksgiving. What Loewen notes is that nonwhite students are alienated from history. If going to school means teaching you poison, what will you think about school?

"Bill took over the class. As soon as he announced the topic of his unit, one pupil, seated towards the back of the room, put his head down on his desk and clamped his hands over both ears. Bill walked over, seeking to learn the source of the boy's manifest alienation, only to elicit the following sentence: "My father told me the real truth about that day and not to listen to any white man scum like you!" The book looked white but was not -- he was a member of the Abenaki nation. Luckily, Bill was not teaching the usual Thanksgiving claptrap and could explain this to the pupil and bring him back into participation with the class. But that episode shows how the usual tripe that we teach about Native Americans, such as the $24 myth, offends them. Indeed, I think stories like these put off everyone who is not in the in-group. The alienation of non-Indians is more subtle, to be sure, but real enough. It helps explain why nonwhites and nonaffluent white students perform so much worse in history than in other subjects."

Strongly recommend that this book should be read if you are seriously concerned with with the teaching of history in the public schools.

4. "The Confederate and Neo-Confederate Reader," edited by James W. Loewen and Ed Sebesta. It supplies information to correct the mythologies about the Civil War, Reconstruction and the Confederacy taught in the public school books. The reference to the "Great Truth" in the books full title is a snarky reference that the great truth is that the Confederacy and so-called Confederate "heritage" is about white supremacy.